---
Due to the difficulty of reducing mechanical forces caused by reciprocating equipment, adequate pulsation control is often required to reduce the potential for vibration and failures. Our extensive experience in pulsation studies to API618 and API674 allows us to perform efficient and practical pulsation studies, and reduce unnecessary design and fabrication costs associated with your compressor package.
Asset Integrity has considerable on-site experience with compressor packages and can provide pulsation and vibration measurements to troubleshoot vibration and failures which can cause significant downtime of your asset. Measurements can also be undertaken by Asset Integrity during commissioning to provide reassurance that your asset is operating as intended.
Other services which Asset Integrity can also provide for compressor package design include, finite element analysis (FEA), fatigue analysis, structural analysis, pipe stress analysis, flow induced vibration (FIV) studies, machinery analysis, and thermal stress analysis.
---
About Pulsation Analysis
In the same way that a structure has its own natural frequencies, a fluid (i.e. gas or liquid) also has its own natural frequencies (e.g. standing wave patterns in the fluid). When an acoustic natural frequency couples with a structural natural frequency or a pulsation source, such as a reciprocating compressor, they can produce significant shaking forces (i.e. vibration) in vessels and pipework, leading to fatigue failures.
Reciprocating equipment such as reciprocating compressors/engines and positive displacement pumps all generate significant pulsation energy at numerous harmonics. Pulsation analysis allows us to appropriately size pulsation bottles, orifice plates, and to correctly route and support piping to prevent failures. Many failures have occurred in industry to date due to incorrect pulsation bottle design, incorrect piping and support design, or modifying operating conditions without adequate design checks.
Other sources of pulsation can also include:
• Acoustic excitation of pipe spans and pressure vessels, such as flow over a component or past a 'dead leg' branch
• Non-symmetrical flow at vessel outlets
• Flow past an intrusive device such as a thermowell or sample probe
---
---
REQUEST QUOTE
"Pulsation control is often required to reduce the potential for vibration and failures."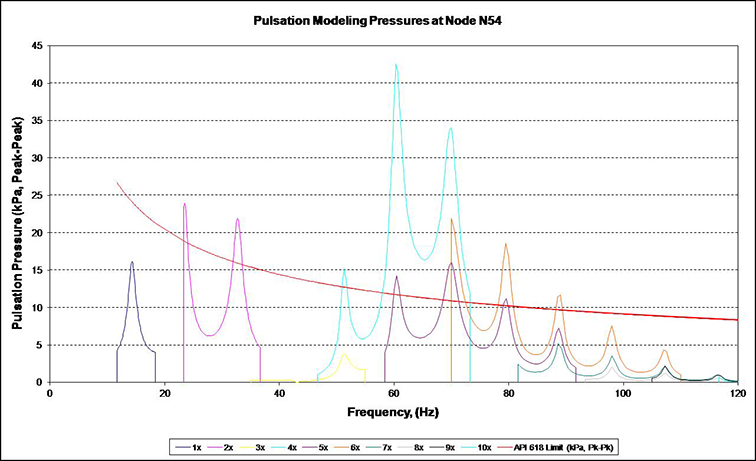 Typical Problem
- Analysis Type
- Asset
Design reciprocating compressors to API 618
- Pulsation
- Calculations
- FEA
- Reciprocating Compressor
Design reciprocating pumps to API 674
- Pulsation
- Calculations
- FEA
- Reciprocating Pump
Possible acoustic excitation causing pipe/structural vibration near machinery
- Pulsation
- Calculations
- FEA
- Field Measurements
- Pipe / Valve / Fitting
- Structure
Prevent shaking forces (vibration), and failure of restraints
- Pulsation
- FEA
- Reciprocating Compressor
- Reciprocating Pump
Compressor valve damage
- Pulsation
- Reciprocating Compressor
- Reciprocating Pump
Prediction of flow from compressor systems
- Pulsation
- Calculations
- Reciprocating Compressor
- Reciprocating Pump
Reduce the potential for piping and small bore fitting (SBF) failures
- Pulsation
- FEA
- Field Measurements
- Pipe / Fitting / Valves
Excessive movement of compressor due to grout deterioration, leading to excessive vessel, piping, and fitting vibration
- Pulsation
- FEA
- Field Measurements
- Calculations
- Reciprocating Compressor
- Reciprocating Pump Pipe / Valve / Fitting
-Vessel
Repeated failure of pipe restraints
- Pulsation
- FEA
- Field Measurements
- Pipe
- Structure
Excessive flow/pressure measurement fluctuations in instruments
- Pulsation
- Calculations
- Instrument
Predict pressure drop and compressor performance due to pulsation, and improve
compressor/pump efficiency
- Pulsation
- Calculations
- Reciprocating Compressor
- Reciprocating Pump
Predict the effects (process, vibration , pressure pulsation) of multiple compressors in series/parallel operating under differing process conditions (including nitrogen purging) and running speeds.
- Pulsation
- Calculations
- FEA
- Reciprocating Compressor
- Reciprocating Pump
- Pipe / Valve / Fitting
- Structure